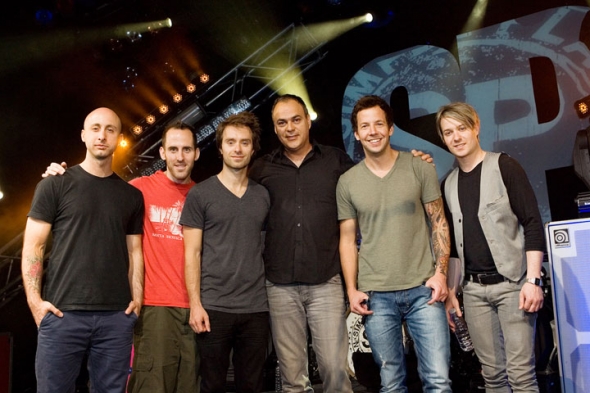 On September 20th in Montreal, Simple Plan will be taking the stage with the Orchestre Symphonique de Montreal for a special one-night-only event to benefit the Simple Plan Foundation and the OSM's educational efforts. This is an exclusive chance for fans to experience their favourite Simple Plans songs as symphonic arrangements by Simon Leclerc, the concert conductor, in the OSM's brand new home. All the proceeds generated from this event will be donated in support of the Simple Plan Foundation and the Orchestre Symphonique de Montreal's youth education programs.
Tickets for this benefit event are on sale now, with a limited number of front row seats at a special price!
VIP packages including privileged seating, meet and greet and more are also available.
---------------------------------------------------
Le groupe Simple Plan et l'Orchestre symphonique de Montréal sont heureux d'annoncer qu'ils partageront la scène pour un concert exceptionnel au profit des jeunes qui se tiendra le 20 septembre dans la toute nouvelle salle de l'OSM.
L'événement-bénéfice offrira aux fans une occasion unique de découvrir une nouvelle dimension du répertoire de Simple Plan, alors que les arrangements de Simon Leclerc, chef d'orchestre du concert, résonneront dans la nouvelle salle tout en mettant en valeur la signature sonore de Simple Plan.
Toutes les sommes amassées au cours de cette soirée seront versées à la Fondation Simple Plan et aux activités éducatives de l'OSM.
Billets à partir de 75$. Un nombre limité de billets, situés dans les premières rangées en avant et autour de la scène, seront disponibles au coût de 75 $. Les billets, au coût de 75 $, 125 $ et 250 $seront mis en vente le lundi 27 juin 2011, dès 10 h. Les amateurs pourront se les procurer surwww.osm.ca ou en téléphonant à la billetterie de l'OSM au 514 842-9951. Un reçu pour fin d'impôts sera émis.