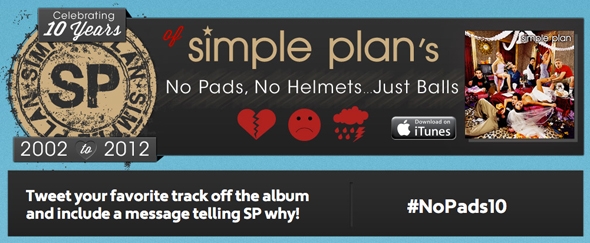 March 19th, 2012 marks the 10 Year Anniversary of SP first release of No Pads, No Helmets...Just Balls! To celebrate this huge anniversary for the band, head over to simpleplan.com/10yearanniversary now.

You can tweet your favorite track off the album, re-live all the music videos from the album + listen to some bonus material released during the album cycle. Remember the Live in Anaheim album from FUSE? How about the songs on A Small Package for You like "Crash and Burn"? Remember "Don't Wanna Think About You" or "Surrender"? Listen to them all here!

Plus, check out this special message from the boys, looking back 10 years ago...