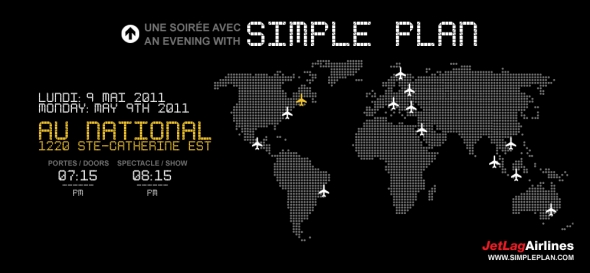 First Boarding Call for Montreal leaves Monday at 7:15. Will you be there?
That's right! The band will be playing their first ever concert to debut the new songs from Get Your Heart On! at The National on Monday, May 9th in their hometown of Montreal!
The SPCrew Pre-sale begins tomorrow (Sunday 5/8) at 10:00am EST. Full details at officialspcrew.com – log in or join now! Tickets for the public go on sale tomorrow (Sunday 5/8) at 12:00pm EST. And if you snooze, you really do lose! Tickets will sell out fast.
Make sure you to synchronize your watches.
Français: http://www.admission.com/html/connect.htmI?STAGE=1&EVNT=PLA0509&l=FR
English: http://www.admission.com/html/connect.htmI?STAGE=1&EVNT=PLA0509&l=EN